I'm pretty sure Russian skater Irina Slutskaya winning the Cup of China on Thursday had nothing to do with being so, well, BENDY!  I could do that!  It would NOT be pretty, and copious quantities of blood would be involved, morphine, as well as several paramedics, but I could do it.
I'm a sucker for women's skating as my wife would embarrassingly attest.  She thinks I'm being a sissyman.  She thinks Arnold would call me a girlieman.  Maybe she's right.  Let's be clear, though:  I don't go for the men's skating events. 
When they start looking, dressing, and acting more like men, then maybe.  (I don't dispute their athletic ability).  The women are all woman, though, which I like.
But speaking of pretty, did you hear how some in the international world of women's CURLING have decided to try to promote their sport?  Yes, through a sexy women's curling calendar.  One of the pictures is at right.
Now let me put it on the record that I long ago spotted the beauty within women's curling, and even posted a whole series of pictures in this very site's PhotoBlog featuring of course Canada's Jennifer Jones.  'Course she was fully clothed, and she is not among the curlers who exposed any of themselves in the women's curling calendar either (I checked).
Here's one of the pictures I posted of Canadian curling team champ Jennifer Jones included in the PhotoBlog: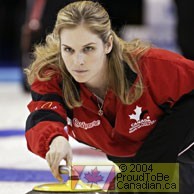 And then as I said in the PhotoBlog, "…And just when I thought that with our Jennifer Jones Canada had the cutest women's curlers, a new entry comes along:  Cassie Johnson and her sister Jamie Johnson of the United States team."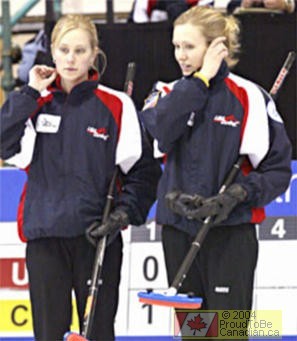 Because I'm so pro-Canadian, I added:  "On the other hand they appear to have some sort of a gnat problem."
And of course I'm a political animal, yes.
Here's another picture I added: I called this "Curling, Liberal Style"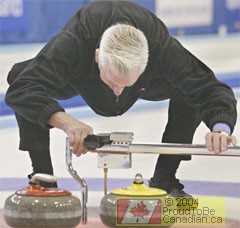 That had nothing to do with beauty, as you can plainly see.
And speaking of politics, there's also the Claire Booth Luce Calendar of Great American Conservative Women I alluded to here, and which features Ann Coulter among other beautiful conservative woman.  I have one of those calendars, as if I had to tell you.
Canadian curlers Melanie Robillard of Ottawa and Lynsay Ryan of Kelowna, B.C. are apparently in the curling calendar.  For more information on the $29 (CDN) calendar, go to www.thecurlingnews.com.
And I'd also like to place on the official record the fact that I foresaw the value of nakedness in sports a long time ago (though neglected the possibility of naked curling), and wrote a whole column about naked sports, called Naked Sports, which is among my most read columns for some odd reason.  So odd.  An oddity.  Strange.  Imagine that.
Anyway I've ordered one of the curling calendars for research purposes, and I'll report back to you after I get it in the mail.

Print Friendly