We get fairly regular updates from our columnist Mike Adams on his favorite handguns (usually just before Christmas, the sneaky devil), and occasional mostly hunting-related updates from our Doug Giles and lately, his gun-toting daughter Regis Giles (as seen at left in the vid); and our Ann Coulter regularly makes it quite clear that she "carries" wherever that's allowed.  But we don't normally expect to see the liberal-left New York Times or its Magazine feature fancy guns –  especially for the gals.  It seems a little counterintuitive.  Welcome, but counterintuitive.
Especially when they use verbiage to describe them like this:  today's gal-guns are "…flashier, more feminine and easier to pop into a handbag."
Click to see full page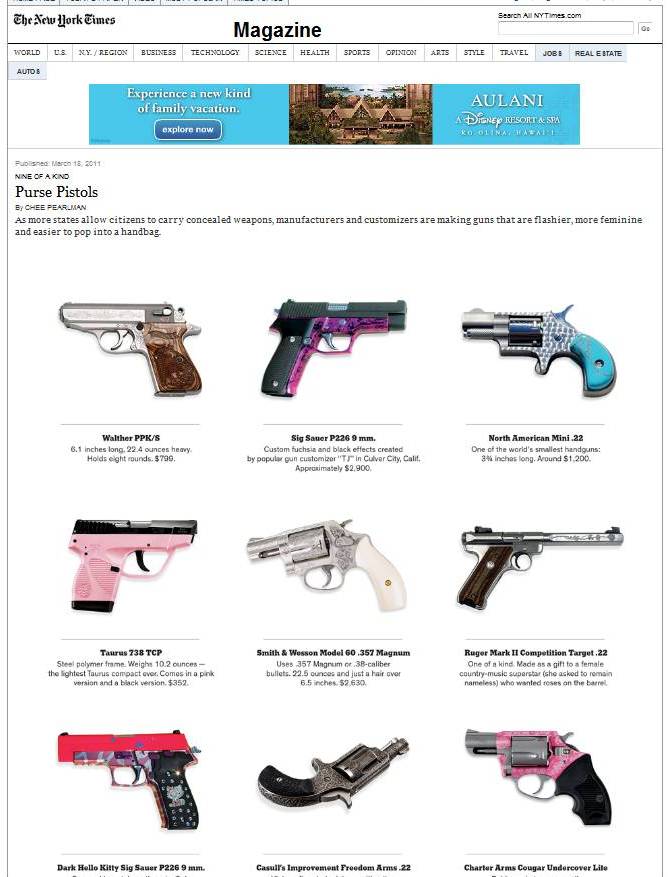 I picked up on this up from a tweet by one of the people I follow on Twitter, Mary Katherine Ham (@MKHammer).
[blackbirdpie url="https://twitter.com/#!/mkhammer/statuses/50213373366902785"]
.
Canadians: see separate and adaptive BoldColors.CA version of this story here!