A CBS News poll says most Americans don't believe "harsh rhetoric" was "to blame" for the heinous shooting in Arizona.
Of course the term "harsh rhetoric", as used by the liberal media like CBS and the Left generally, is actually code for the latest ammunition they're using to:
· get Sarah Palin,
· get the "tea party" movement as if it were a living being,
· stick it to Fox News Channel as if it were a whole being, hammer Glenn Beck,
· bash Rush Limbaugh,
· nail everyone on the conservative right who has ever criticized President Obama and the Left,
· cast anything not in consonance with the hard progressive Left, as "extreme", and
· cast mere disagreement from the Right as "hate", or "racism", or "homophobia", etc.
That's what "harsh rhetoric" stands for.
Lesson Two: when the left hurl disgraceful, disgusting personal insults at conservatives in their ongoing historically ignoble, unmatched, unhinged effort to assassinate the character of, say, Sarah Palin, it's simply "pointing out the truth". See? Good. Now you're thinkin' like a progressive or a liberal.
…CBS said its nationwide telephone poll found that, "57 percent of respondents said the harsh political tone had nothing to do with the shooting, compared to 32 percent who felt it did." …
Sadly for the progressives, even now before there has been time for quiet reflection over the shrillness of the progressive Left as it still madly scurries to blame Sarah Palin and the others, and even in the emotional heat of this moment in time when you might normally expect such a poll to go their way, the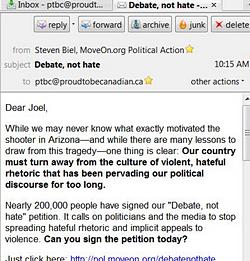 people aren't buying it. Once again. In fact I think what the Left are attempting to do enrages the people, not unlike the progressives' so-called "healthcare" (–wink!) nonsense did, and their profligate spending did, and their moves to expand government and its scope and degree of control did — all of which caused the explosive rise of the tea party movement three and a bit years ago.
But that's not a scientific conclusion, and I know the Left are so concerned about appealing to science rather than cling to mere faith, for their answers. You know, like the science behind Sarah Palin and "harsh rhetoric" definitely being "to blame" for a madman's lunacy, as they now claim.
And this will get worse for the progressive Left over time, as the people realize what a caustic, corrupt, crass political maneuver the Left, together with their media divisions, have been engaged in and perpetrating over this issue. That next BANG! you might hear, soon, isn't going to be a gun shot, it's political backfire. Folks will come to realize more fully over time, that this has been yet another example of another crisis the Democrats didn't want "to waste" without their enacting or engaging some sort of left-wing political response. We all know "not letting a good crisis go to waste" was a credo Obama's White House Chief of Staff Rahm Emanuel and which other Democrats and Obama-ites have spoken of, since early in their recent reign. Already, a couple of Democrats have launched anti-gun-rights bills — even before the blood stops dripping from the victims.
Cries from the Left of "cool the vitriol" and "stop all the harsh rhetoric" are also backfiring because it is often itself said in a purely vitriolic manner — using quotes out of context, and outright lying about what has been said and by whom. And because the the folks know that the Left are utter hypocrites — having engaged in at "rhetoric" far worse — nobody sees past the crap spewed at Sarah Palin by even the most moderate Left.