Today's lesson is: how do you spell corruption?
According to a Bureau of Labor Statistics report, teachers are now being paid twice as much as private sector workers in the United States.  And government workers generally get nearly 50% more than private-sector workers.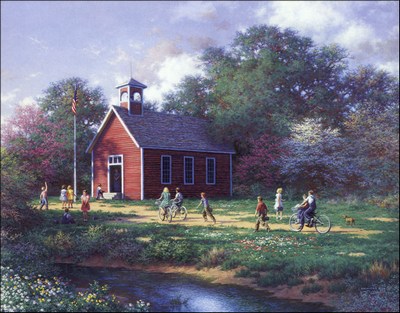 But that's OK because as we know, teachers do twice the work, are twice as important, are twice as valuable to society, are twice as educated, and/or are twice as smart as the rest of us. All of them. Equally. Merit aside. And outcomes notwithstanding.
At a rate of $56.59 per hour in combined wages and benefits, public school teachers enjoy a rate of pay even higher than other state and local government public-sector workers.  The average state and local government public worker gets an average of $40.76 per hour.  Private industry workers get an average $28.24 in wages and benefits.
Makes sense, as public-sector workers are generally about 50% smarter and harder working than shlubs like you and me.
In fact, all of that hilarity aside, many of the public-sector workers should be fired simply on the basis that their attitude seems to be that they're 50% smarter and better and more put upon than us in every way. Well that and their eyebrow piercings, and those ever so fashionable new tattoos adorning their necks. Of course you can't fire them though. It's really only private-sector workers who can be fired if they're lousy at their jobs or choose to look like irreverent douches.
This arrangement makes sense only in China or Cuba, and only you're a government official. And/or you have pierced nipples and are an irreverent douche currently occupying Wall Street or a port.
Read more below the ad.
I suspect that this perversion of sanity and logic is a result of a dangerous compound of (1) militant left-wing unions who contribute tons of cash to sympathetic  –  almost always left-wing or so-called "progressive"  –  politicians and political parties, and which also spend tons of their union cash incessantly lobbying way-too-big governments for their ever-higher wages, benefits, and limits on competition.  And (2) the fact that public-sector worker unions are among the biggest and richest "enterprises" in the land, and are the biggest political donors and government lobbyists.
This power is a result of unions' absurd and some say ill-gotten mandate to legally plunder their forced membership of a portion of their earnings under the guise of maintaining those workers' "rights" and their interests, but which is now really more to serve the purpose of building and using the union as nothing short of a left-wing political machine which, owing to its massive power, has the ability to elect and continue to corrupt governments.  It has thus become self-sustaining, by design. And the worst part is that it turns its members, whether wittingly or unwittingly, into far-left political lemmings; politic minions and tools whose personal political interests may be in direct opposition to their union's.
The unions are corrupt, and they're gaming the system with the aid of compliant (usually left-wing or progressive) politicians in way-too-big governments. And a compliant membership.
The problem is, in fact, "progressive."  And that's one spelling of corruption.
Unions such as teachers' unions get their way  –  and their wages  –  by buying it. Public-sector unions like the teachers' unions can essentially buy their own bosses  –  the governments  –  who in turn know they don't even use have to spend their own money to pay (pay back) those who bought them. And many of them  –  the progressives  –  don't care. In fact many of them have an agenda which exactly equals and is entirely sympathetic to, and which often includes exactly this sort of arrangement.
Private-sector workers, whether unionized or not, cannot buy their own bosses who then use taxpayer cash to pay their employees.
This huge union and its collective bargaining concept results in massive unions buying government, in what is often a monopoly market. In the case of schools, it's particularly true in the absence of a school voucher or school choice plan. But even then, it's difficult or impossible for any kind of enterprise, whether academic or not, to compete against their own government and their profligate ways.
It's perverse. And it's corrupt.
And that's why collective bargaining in the public sector should be eliminated.  And it's partly why I'm a conservative.
It's also why government should reverse its exponentially increasing size and scope and its growing meddling in what should once again be a fully private-sector-based competitive, free-market economy, where things like merit and value and efficiency are the determinants of wages and benefits and profits, rather than power and pay-offs and systemic corruption between governments and any collective.
Government is the target of so much of this union and corporate lobbying, and so much political campaign cash, and is subject to so much corruption such as this, simply because it has grown to such an extent, and become so pervasive in our daily lives and that of our whole economy.  Government has grown to such a size and scope that it is now so central, so intrusive, and has worked its way into so much of what we do and think, that many of us are completely reliant upon government for our jobs or the success of our businesses  –  and the rest of us are to at least a some extent.
Government now engineers and controls and regulates so much of lives and our businesses and our economy generally, that it practically runs our lives and owns our businesses, or might just as well own them. This is not a sustainable model, witness the Soviet Union, North Korea, and Cuba.
For citizens it leads to servitude. We're losing our freedom. And the bigger the governments continue to grow, the more this becomes true.
Reduce governments' growing size and power, and much of the corruption, such as that enjoyed by teachers' unions, would disappear.
Class dismissed.
Read a summary of the Labor stats here.
.