By
Joel Johannesen
on
Friday April 7, 2017 at 9:56 am

Follow Joel Johannesen on Twitter
Mail delivered to me in a fashion at odds with the quaint traditional postal mail methods of yore. And then answered in a similar alternate fashion.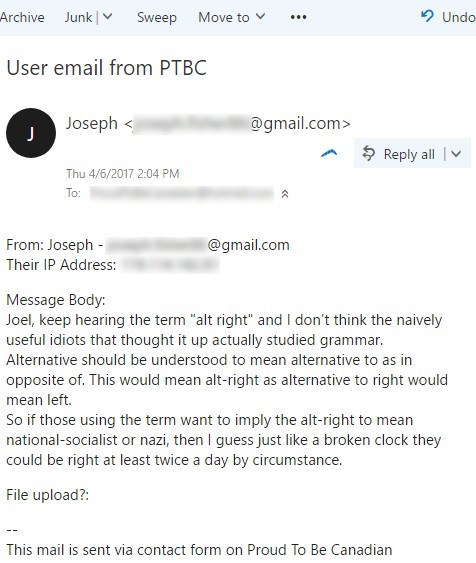 Hi Joseph,
I think what the "alt-right" folks intended to mean was "an alternative to the traditional, or 'establishment,' or commonly-known version of the right," rather than anything like the opposite of the right.
As you know, nobody, not the right, not the left, not libertarians, not moderates, not the gay set, not Mexicans, not jihadists, not 'working families', not the 'news' media — nobody — even knew what in tarnation "alt-right" meant, until maybe a year ago.
Everybody immediately pretended they'd known the term for years and years, and knew just precisely what it meant because of course they're so hip and smart. Nobody actually knew, and still don't, because there is not "alt-right" manifesto or constitution or head office or clubhouse.
As soon as the cool kids starting using it the term was brought into the sunlight and immediately used — by the left only — as a way to smear conservatives or Republicans who liked Donald Trump. They used the term as synonymous with "racist" or "Nazi" or "irredeemably deplorable" (or pick from the left's menu of other hate-smears).
If you're like me, when I first heard it, I thought it meant more something along the lines of "neo-con" or just another version of the conservative-right, which was just as palatable as most of the other member-groups of the conservative family, like the log cabin conservatives, but just with yet another distinct angle.
And since Breitbart.com (a site I've visited since the day it was born because I hugely admired Andrew Breitbart and because the site is excellent) was touted as the home of the "alt-right," I thought it, too, was perfectly mainstream and good. Because Breitbart.com is generally that: mainstream and good.
I was always fully aware that Breitbart had some edgy — just edgy; no, not "racist" or "Nazi" — articles, but I always took them in the context in which they were intended to be taken, and read them as a grown adult with a half-ass brain, instead of an idiot man-child like so many on the Left and in their media division.
I still don't know even remotely know what "alt-right" means.  I brush it off as another bullshit term invented by yahoos. Millennials. Or hippies. I don't bother to call myself "alt-right" mostly because I refuse to let the idiots on the left define me, especially if they're trying to define me as racist, or as a "Nazi" (even though it really just makes them look like the total imbeciles they are).
I'm a conservative and I like Breitbart.com. And that's alt-OK.
Sincerely,
Joel Johannesen
Also posted to ProudToBeCanadian.ca
Contact the Editor: Joel Johannesen
**Link to this article alone **
Tags: alt-right
Posted under the categories(s):
Bold Blog, Joel Johannesen

Follow Joel Johannesen on Twitter
---
By
Joel Johannesen
on
Friday March 31, 2017 at 9:46 am

Follow Joel Johannesen on Twitter
New York Times op-ed headline:  "Climate Progress, With or Without Trump."
So the Trump administration is powerless to stop the huge, fast and unstoppable green envirotrain?
And what's this: Trump can't retard the movement — the people — or the free market — from acting in their own best interests?
Yeah, well, that's what conservatives have been saying forever. So it's weird to see it unwittingly argued by liberal-lefty Michael Bloomberg in an protesty "resist"-style op-ed against Donald Trump.
Bloomberg hilariously argues — argues — that Trump can't stop this or even retard it because the big (liberal) federal government and its mammoth reams of (liberal) rules and (liberal) regulations enacted under Obama and (liberal) Dems in congress — as well as by the (liberal) agencies themselves — aren't what's driving the quest for a cleaner environment in America. Rather, it's the people themselves, and individual companies, and state and local governments, all acting on their own; the free market is demanding action — products, sources of energy — and they're doing these things that are in their best interests.
For example (mine, not Bloomberg's), nobody forced Elon Musk to make electric cars.
Whodathunkit. People aren't so stupid that they need to be led around by the big federal government like they're idiots. One could only argue about the mental capacity of those who still don't see it even though they just said it.
Here's a spoiler alert: "Thanks to forces beyond the Washington Beltway…" is Bloomberg's penultimate protesty conclusion. But we're all like Yeah! Exactly! You'll get no argument from us conservatives, Mr. Bloomberg! Bloomberg should thank conservatives for making this point for him for decades, but apparently bubble-boy hasn't even been listening so he's utterly unaware.
Bloomberg reminds me of a comedian hitting himself over the head with a cast-iron frying pan for making a dumb mistake — only Bloomberg doesn't even see it coming.
Bloomberg is arguing the conservatives' argument but he has no idea that's what he's doing. He thinks he's telling Trump and Trump fans, Too bad suckas! You can't stop this enviro train because… um… it's not being driven by the government! It's the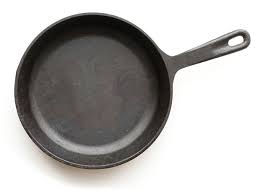 people! He's actually making a mockery of himself and the hysterical big (liberal) government enviro overreach and (liberal) enviro Big Brotherism of the past eight Obama (liberal) years.
… In combination with existing federal policies that can't be undone, like vehicle fuel efficiency standards through model year 2021, the last third can be achieved by cities and businesses that are taking action to cut pollution and improve their energy efficiency. This week, many of the 81 major corporations (including Apple and Wal-Mart) that signed a pledge in 2015 to reduce their emissions reaffirmed their commitments, and Anheuser-Busch InBev announced that it aims to get 100 percent of its energy from renewable sources by 2025. (My company is pursuing the same goal.) …
…And here's the good part (think of a frying pan hitting him on the shnoz)…
No mandate from Washington is forcing these companies to act — just their own self-interest.
Bonk! …as giant frypan meets face.  He literally argues for conservatism.  It's the people — the market forces — that are demanding cleaner energy, and they'll get it if they want it. It's the free market! Capitalism! Conservatism! And Trump (still big government) can't stop them (and nor would he want to).
Though few people realize it, more than 250 coal plants — almost half of the total number in this country — have announced in recent years that they will close or switch to cleaner fuels. Washington isn't putting these plants out of business; the Obama administration's Clean Power Plan hasn't even gone into effect yet.
Oh please put that frying pan down Mr. Bloomberg.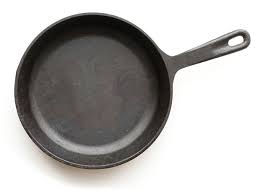 His argument is so malformed it is risible.  He argues that big government can start the train, and Trump is powerless to stop it. Yet he admits it's not big gov which is driving this train. So like, nevermind! — only he never even gets to that uh-ha, nevermind moment.
So here we are again with the frying pan. Bonk!
Bloomberg agrees with us without it even dawning on him. It always was the people — the market — which controlled the narrative, because as this liberal unconsciously admits, we were always smart and capable enough to act properly on our own without the super-smart Big Brother liberals in Washington controlling us. The myriad (liberal) rules and (liberal) regulations and (liberal) penalizing taxes were a complete and utter waste of time and money, they stifled innovation, they slowed progress, they killed jobs, and they caused nothing but grief as a general matter. Conservatives have been arguing that forever, and clearly Bloomberg and liberals were too slow to pick up on it.
No mandate from Washington is forcing these companies to act — just their own self-interest.
Oh man. I just had to repeat it here so we could all enjoy the comedy.
Bloomberg reminds me of Phil Dunphy who after saying yet another pun-filled, totally inane sentence, always sugar-coated with hysterical double entendre, sheepishly turns to the camera and admits, "yeah I heard it." Only Bloomberg didn't have that moment. He just plods on, unaware of the ensuing hilarity enjoyed by the people in the audience:
Cities, too, are acting out of self-interest. By improving their air quality and becoming greener, cities turn into more attractive places to live and work. And where people want to live and work, businesses want to invest. That's Economics 101, and mayors understand it even when Washington doesn't.
Economics 101 yes. It's also Politics 101 and Conservatism 101. Perhaps Bloomberg needs a course called Getting Out of One's Liberal-Left Bubble 101.
How terrible it would be if a misunderstanding of American climate leadership — which is not based in Washington and never has been — led to an unraveling of the Paris agreement.
Oh dear.
Bloomberg is doing the Left no favors here with his "resist-y" effort. He's actually retarding their big-government narrative. He's making a fool of all of them. Liberals have no champion in liberal Michael Bloomberg and his giant frying pan. But at least we get a laugh out of it.
Contact the Editor: Joel Johannesen
**Link to this article alone **
Tags: Donald Trump, environment, EPA, Michael Bloomberg
Posted under the categories(s):
Bold Blog, Joel Johannesen

Follow Joel Johannesen on Twitter
---