By
Joel Johannesen
on
Monday January 8, 2018 at 11:44 am

Follow Joel Johannesen on Twitter
The Golden Globes Left-Wing Virtue Signaling Night, last night, as presented by hideous leftist Hollyweird hypocrites, succeeded in doing exactly what we expected: they unwittingly made idiots of themselves.
Favorite critique line:
I don't know. Like anyone who lives for attention, the Hollywood set knows that your good thoughts don't matter unless everyone in the world knows you're thinking them.
(If I may critique the critique: the term "good thoughts" is subjective. For example I have no illusions about the left-wing, rabidly anti-Trump meme "RESIST!", as broadcast in last year's hideous show, being a "good thought.") …And what they apparently don't know is (well, aside from much of anything), their virtue-signaling actually highlighted perversions and immorality endemic in their own extended Hollywood/Media/ Democratic/liberal/ Progressive/Socialist family. George Bush, Donald Trump, Karl Rove, nor even Steve Bannon created "the casting couch" (although I'm sure someone — possibly a contributor on "resist" central, MSNBC, although I doubt it will be Matt Lauer — will find a way to try to make it so).
So they were railing against — virtue-signalling against — themselves(!), even though (or perhaps because their profession is literally to pretend) they looked and sounded every bit like they were, as usual, railing against America (and make no mistake: that is their true passion).
And what they also don't know is the fact that this idiotic virtue signaling has a rebound effect. It actually makes us think not how virtuous they are, but rather it reminds us of how ridiculous, deceptive, immoral, perverted and hypocritical — how unvirtuous — they in fact are.
But when repeatedly, glibly, virtue-signalling by just saying it from on high isn't enough, there's this: aside from the ubiquitous "Times Up" buttons (they also wore "Free Tibet" back in the day, and more recently, that charming "resist" meme), this "poverty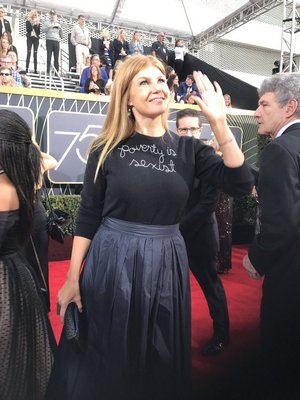 is sexist" outfit was worn by some actor named Connie Britton, and of course the media lapped it up.  She stood out as particularly hideous (virtuous, to the media), not the least of which because the sweater looked like it was created by an eight-year-old. But also because it was just ugly.  
For still more hideosity, according to one report:
The sweater appears to be a product of Lingua Franca, which custom makes sweaters with activist-learning slogans stitched into them such as "I miss Barack," "resist" and "The Future is Female." The sweaters typically cost $380.
Betcha they'd refuse to craft one saying "MAGA" (and betcha if they did, they'd get away with it with lots of support from leftists). In other words, last night's viewing was more left-wing hypocrisy piled up on top of Hollywood limousine liberal hypocrisy.
Contact the Editor: Joel Johannesen
**Link to this article alone **
Tags: Golden Globes, liberal hypocrisy, Limousine Liberals
Posted under the categories(s):
Bold Blog, Joel Johannesen

Follow Joel Johannesen on Twitter
---
By
Joel Johannesen
on
Thursday September 28, 2017 at 12:22 pm

Follow Joel Johannesen on Twitter
The media's done it. Academia's done it. Now what is apparently the newest group to come out of the closet and politically identify themselves as leftist is the NFL — its owners, its players, the league itself.
But here's the point of my minimalist post today: it's a li'l hypocrisy test. Let's play! Imagine if the players were taking a knee for something different — for God, say — praying. This, instead of their idiotic, arguably racist, and definitely political (leftist) (though not-clearly-defined) cause, largely based on lies such as the "hands up don't shoot" lie perpetrated by the leftist media and all other leftists. Imagine the gigantic clusterf of leftist indignation and outrage. Well that's pretty much the game. Just imagine that.
Now let's head off the argument the left will raise about this little game — which is that suddenly those on The Right would find the knee-taking totes cool if the players took a knee to pray instead. Wrong. The point is and always was that (1) it is simply normal decorum and an American custom (pretty much a global decorum and custom, actually) to stand up and respect the flag and the anthem when it is sung, and at least in America's case, it's for very good reasons (I'm not sure I'd stand for North Korea's anthem, for example); (2) it is certainly an NFL custom — even if it's not an official "rule" — to stand up and respect the flag and the anthem when it's played; and (3) it is offencive to introduce crass and very questionable politics into what everybody expects to be a totally apolitical, leisure and entertainment activity. It's not un-American or wrong or in any way offensive to the vast majority of normal Americans (or anyone else) to take a knee and pray, even during a game; but it would not be appropriate to do that during the national anthem.
The rules to being normal are really pretty simple.
Contact the Editor: Joel Johannesen
**Link to this article alone **
Tags: liberal hypocrisy, NFL
Posted under the categories(s):
Bold Blog, Joel Johannesen

Follow Joel Johannesen on Twitter
---