By
Joel Johannesen
on
Friday February 17, 2017 at 12:10 pm

Follow Joel Johannesen on Twitter
I could do this all day long. This and only this. And I still wouldn't have time to do them all. But here's the latest today: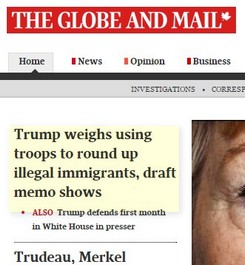 Drudge corrects the record — actually corrected it a long time ago. Globe & Mail doesn't care. They leave their headline in place.


@ericContrarian put it succinctly: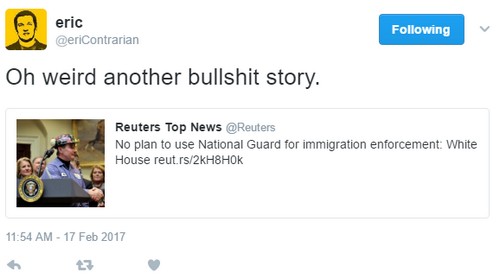 As did Sean Davis:
Accurate characterization of the DHS draft memo: Trump DHS considers reinstating Bush/Obama policy on removal of criminal aliens. That's it.

— Sean Davis (@seanmdav) February 17, 2017
But the liberal media doesn't just get headlines wrong (purposely or not — who knows?), they inject their opinion — their political opinion — into headlines. Look at this "bizarre" CTV "News" headline which is an opinion posing as serious straight news: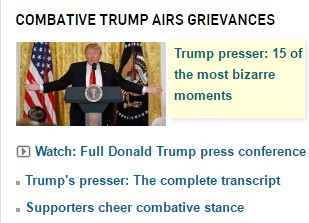 "Bizarre" is not a fact. It is an opinion. For example, I think it's bizarre how biased the media is. (Don't get confused by that statement: "bizarre" is an opinion. That they're biased is actually a fact.) And besides, the whole premise of the article is to attempt to mock Donald Trump — a terrible and terribly biased journalistic tactic — at best.
That story was written by a reporter whose bio says that he is a graduate of Ryerson University's journalism undergraduate program. I did not go to journalism school.
Contact the Editor: Joel Johannesen
**Link to this article alone **
Posted under the categories(s):
Bold Blog, Joel Johannesen

Follow Joel Johannesen on Twitter
---
By
Joel Johannesen
on
Friday February 17, 2017 at 7:51 am

Follow Joel Johannesen on Twitter
CNN's Jake Tapper "reported" yesterday that Trump's press conference was "unhinged."
This is an email to me today from the Democrats, which is obviously very, very important, since it's "re: the biggest political scandal in American history."  Presumably it's even bigger than last week's "biggest scandal in American history."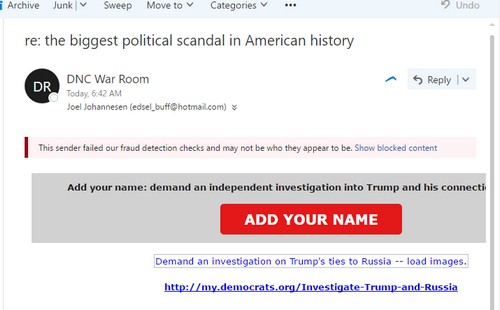 Golly!  Just wait until Ivanka Trump wears an Ivanka Trump dress to a meeting! That'd be an even bigger biggest scandal!
Contact the Editor: Joel Johannesen
**Link to this article alone **
Tags: Ivanka Trump fashion
Posted under the categories(s):
Bold Blog, Joel Johannesen

Follow Joel Johannesen on Twitter
---