By
Joel Johannesen
on
Friday May 10, 2019 at 7:53 am

Follow Joel Johannesen on Twitter
For the past several months the production of new material as been suspended at this particular site, but it will resume. We have been focussing our energy in other directions for the past while, even while ensuring this site and our others remain intact. We intend to keep all these sites active well into the future despite the anti-conservative, anti-freedom, anti-free-speech headwinds. 
Speaking of free speech, there is an election in Canada this year, and much focus has been devoted to posting articles to our Canadian politics websites for the past several months (for example, ProudToBeCanadian.ca and NewsQuips.ca). After that October 21 2019 election, which the Conservative Party should win if Canadians aren't high that day, BoldColors.net will come back in stages, just in time for fresh material of interest to 2020 U.S. voters. There may be be changes here and even new material posted there before then.
Please feel free to submit articles, as long as they are professional in terms of quality, and they speak to our political bent. As always, expect no compensation. 
NOTE TO EMAIL SUBSCRIBERS: Clearly you haven't been getting email updates as there have been no articles posted (you should get one as a result of this post!). We're going to change our email subscription service from Google's Feedburner to MailChimp, and thus if you were on the Feedburner list, we'll be shifting you over to the new MailChimp system. I don't think anything has to be done on your end. 
Contact the Editor: Joel Johannesen
**Link to this article alone **
Posted under the categories(s):
Bold Blog, Joel Johannesen

Follow Joel Johannesen on Twitter
---
By
Joel Johannesen
on
Monday January 8, 2018 at 11:44 am

Follow Joel Johannesen on Twitter
The Golden Globes Left-Wing Virtue Signaling Night, last night, as presented by hideous leftist Hollyweird hypocrites, succeeded in doing exactly what we expected: they unwittingly made idiots of themselves.
Favorite critique line:
I don't know. Like anyone who lives for attention, the Hollywood set knows that your good thoughts don't matter unless everyone in the world knows you're thinking them.
(If I may critique the critique: the term "good thoughts" is subjective. For example I have no illusions about the left-wing, rabidly anti-Trump meme "RESIST!", as broadcast in last year's hideous show, being a "good thought.") …And what they apparently don't know is (well, aside from much of anything), their virtue-signaling actually highlighted perversions and immorality endemic in their own extended Hollywood/Media/ Democratic/liberal/ Progressive/Socialist family. George Bush, Donald Trump, Karl Rove, nor even Steve Bannon created "the casting couch" (although I'm sure someone — possibly a contributor on "resist" central, MSNBC, although I doubt it will be Matt Lauer — will find a way to try to make it so).
So they were railing against — virtue-signalling against — themselves(!), even though (or perhaps because their profession is literally to pretend) they looked and sounded every bit like they were, as usual, railing against America (and make no mistake: that is their true passion).
And what they also don't know is the fact that this idiotic virtue signaling has a rebound effect. It actually makes us think not how virtuous they are, but rather it reminds us of how ridiculous, deceptive, immoral, perverted and hypocritical — how unvirtuous — they in fact are.
But when repeatedly, glibly, virtue-signalling by just saying it from on high isn't enough, there's this: aside from the ubiquitous "Times Up" buttons (they also wore "Free Tibet" back in the day, and more recently, that charming "resist" meme), this "poverty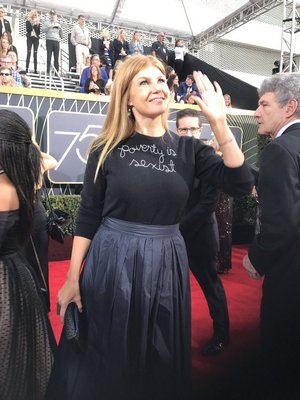 is sexist" outfit was worn by some actor named Connie Britton, and of course the media lapped it up.  She stood out as particularly hideous (virtuous, to the media), not the least of which because the sweater looked like it was created by an eight-year-old. But also because it was just ugly.  
For still more hideosity, according to one report:
The sweater appears to be a product of Lingua Franca, which custom makes sweaters with activist-learning slogans stitched into them such as "I miss Barack," "resist" and "The Future is Female." The sweaters typically cost $380.
Betcha they'd refuse to craft one saying "MAGA" (and betcha if they did, they'd get away with it with lots of support from leftists). In other words, last night's viewing was more left-wing hypocrisy piled up on top of Hollywood limousine liberal hypocrisy.
Contact the Editor: Joel Johannesen
**Link to this article alone **
Tags: Golden Globes, liberal hypocrisy, Limousine Liberals
Posted under the categories(s):
Bold Blog, Joel Johannesen

Follow Joel Johannesen on Twitter
---