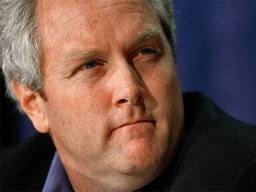 It's a shocking and a truly devastating blow to the political world, as only a very few people in the world today have been as ubiquitous and as germane to the contemporary popular political discussion, as the great Andrew Breitbart.
I looked up to him as something of a hero, because in many ways, I saw him as perfectly befitting my ideal of a conservative political citizen fighter.
Like him, I'd dabbled in the liberal left in my early years, but with life experience and political experience and after much observation and contemplative thought, and through the passage of time, came upon a turning point and began to see things completely differently. And those of us who have evolved that way naturally tend to find a certain brotherhood.
And like him, I took up the fight for the right. Moreover, like him, I saw the need to fight in bold colors  —  mainly online, and in the ever-changing online social media  —  more than in political office itself. And nobody I know of was bolder, or spoke and thought in more vivid, bold colors  —  than Andrew Breitbart. In naming this web site, I took the term "bold colors" from Ronald Reagan, but I might just as well have taken them from Andrew Breitbart.
"Fearless" is probably another word that fit his character and described his drive to advance the cause of his life  —  the conservative and libertarian Right, and exposing the Left.  And "relentless."  I rarely saw anybody so unfairly abused by the Left as Andrew Breitbart  —  certainly on Twitter but also in the mainstream media. But his response was always an almost unbelievable (and seemingly cheerful) persistence in simply exposing them  —   exemplifying their hypocrisy and hate usually by simply re-tweeting despicable comments directed at him, to the point where countless times, I actually had to avert my eyes when I saw one of his hundreds of re-tweets.  But I knew his motive was in doing a service and advancing his cause, so I quietly thanked him, if only to myself. Of course now I wish I'd thanked him for real.
His work writing headlines and links on the Drudge Report was literally historic; and his fantastic "Big" web sites are now a vital and, I hope, long-lived legacy.
So all I can do now is to thank him upon his death for all that he did to inspire me and advance the cause. My prayers go out to his family  — his wife and children.