President Obama is sliding in all the polls, as if they were coated in oil. A better explanation, however, is that he is himself quite greasy.
In recent Canadian polling, Canadians are still showing support for the Keystone pipeline even though they're rightly peeved at President Obama's dismissal of it, and their knowledge that Canada can easily go west instead, and sell their good, and comparatively clean, and moreover, ethical Canadian oil to Asia. (Don't say I didn't warn ya!)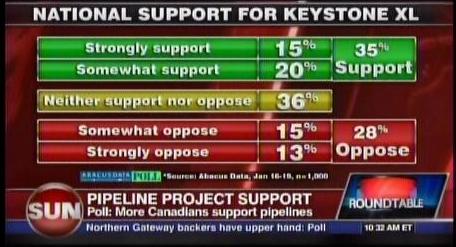 I think many Canadians have been looking for just such an opportunity to prove to America that America is not the only game in town. This is a lesson that President Obama has not learned. Another privately-built Canadian pipeline called the Northern Gateway pipeline  —  to the west  —  is already in the works.
Canadians recently re-elected a Conservative Party government, and there is some antipathy toward the increasingly socialist and anti-business, and possibly anti-Canada Obama, I think.
And what I really like to see is that Conservatives in Canada in particular, (who actually like America, business, economic growth, capitalism, and private enterprise, etc), are really behind Keystone (see graphic below).  The socialist NDP party members are against the Keystone pipeline, which is rather strange in that the NDP is owned and run by left-wing and sometimes Marxist labor unions in Canada, which would stand to benefit from the building of it. But this is a little like Obama's labor union support base, which supports Keystone, even though Obama is against it.  That's because Obama made a decision based purely on political grounds. He's appeasing his rich, far-left greenie base.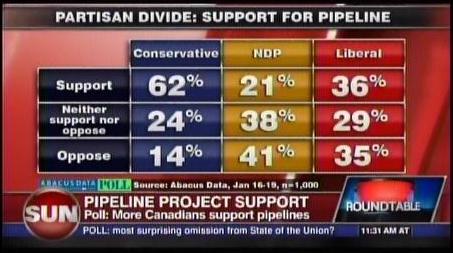 I suspect the socialist NDP membership's biggest problem though, like Obama's, is that it's private money building the pipeline, rather than government/taxpayer money. And socialists naturally hate private enterprise and capitalism. This pipeline tends to brightly legitimize the beauty of capitalism and economic freedom, which is counter to their interests as progressives. And it delegitimizes their fanciful big government socialist Utopian idiocy.
As if I had to tell you, the Liberals in Canada don't have a clue and are totally divided because they can't figure it out, on account of their having no principles; half of them being a mix of quasi, uneasy socialists and full-on socialists, and the other half waiting for their state-owned media (the dreadful CBC) to tell them how to think.
The most recent Rasmussen polling in the US indicates much the same result as in Canada, only the support is even stronger and more anti-Obama.
Monday, January 23, 2012

Most voters still favor building the Keystone XL pipeline from Canada to Texas and think it will be good for the economy despite President Obama's decision last week to delay the project for environmental reasons.

The latest Rasmussen Reports national telephone survey finds that 56% of Likely U.S. Voters at least somewhat favor the pipeline, with 36% who Strongly Favor it. Just 27% are opposed, including 12% who Strongly Oppose the project. Sixteen percent (16%) are undecided. (To see survey question wording, click here.)
No wonder Obama didn't mention it in his State of the Campaign Union speech last night.
 Canadian screenshots are from Sun News Channel in Canada