The latest edition of the major news magazine in Canada, Maclean's, features a cover celebrating the fact that Canada is alone in being confident about its future. You may have heard that Canada earlier this year (May) elected a majority Conservative Party government under PM Stephen Harper, after managing only a minority Conservative government in 2006.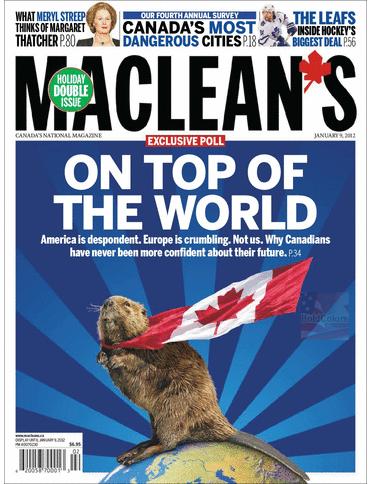 …Which comes nicely on the heels of a blog post I posted on December 5, reproduced here:
One of the most accurate pollsters in Canada says in a new survey resultthat 63.5% of Canadians now think Canada is on the right track.  This is up from 52% last year.  Interestingly, last year, Canada had a Conservative Party government but it was only a minority
Conservative government.  Following the May 2011 elections, Canada was graced with a majority Conservative Party government.  And the positive number went way up from 52% to 63.5%. The official opposition in Canada's parliament is an abject labor union-owned socialist party.
I think the positive number in Canada would be even higher if the Conservative Party was an actual conservative party, and they spoke conservative, in bold colors, instead of being a progressive conservative party which speaks in pale pastels.
At least Canada is on a better track, if not the "right" track.
In the liberal-left-led U.S., the vast majority now think America is on the wrong track. A huge 73.5% of the population believe America is on the wrong track.
Which it is.