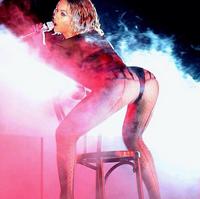 [dropcap]D[/dropcap]emocrats spend half their time telling the world how smart they are, and that Republicans are dumb. They, the Dems, are the smart ones. Bill Nye the Science Guy, all those professors, and all that. Then they do this to help prove their point, somehow:
After officially campaigning at college campuses for her hero Hillary Clinton this week, deep thinker and campaigner-in-chief (popstar division) Miley Cyrus posts a picture of her ass, with the charming comment "Kiss my ass if you aren't voting for Hillary Clinton":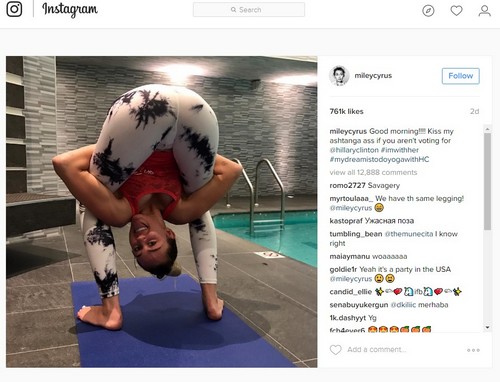 Fearing (among many other things) the spread of STDs and foul odors, I choose not to, thank you very much Miley. But at last glance, nearly 800,000 equally edgy and rebellious fans "liked" the post, just to ensure they are all seen marching in lockstep with the group-think liberal-left music and entertainment industry in supporting only liberals, ever, no matter what they stand for, ever ever ever.
Beyond asinine: Beyonce's butt is fully expected to expose its support for Hillary Clinton:
And the Washington Post declares that that is "important."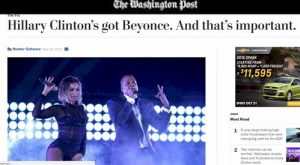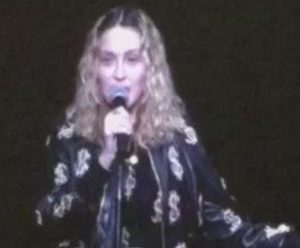 Important my ass.
And then there is the 58-year-old genius liberal Madonna, who, turning the other cheek (actually sort of not), said on stage the other day at Madison Square Garden:
If you vote for Hillary Clinton, I will give you a blow job … Ok? I'm really good. I'm not a douche and I'm not a tool. I take my time, I have a lot of eye contact and I do swallow.
And there are way too many other examples than I have time for, but you get the picture. A lot of liberal asses.
It ain't a pretty picture.
No word on whether the candidate is going to denounce such assery, but while we wait for that to not ever happen in our lifetimes, we could play that game called "Imagine if she were a Republican" and guess at the well-practiced "outrage" from the Left and its media division. CNN would do a 8-member panel discussion about it for 28 minutes every hour for the next week and a half, asking tough questions of every Republican about their opinion of whether this is appropriate level of civility for a presidential campaign, etc, ad nauseam.
By the way I wonder if Miley's fans are the same people who replied to an MSNBC and AP tweet this morning with their charming displays of civility, or if they're different from that 800,000.
No I don't doubt that there's asses on both sides of the aisle. It's just that no news media ever point out the Left's asses. And that's because the media are full of asses.