Some gay activists showed their great respect for the Office of the President, the White House, human decency, decorum, tolerance, compassion, and inclusion, by graciously being invited to the White House this past week, and then using the occasion to pose in front of the portrait of the late great President Ronald Reagan, and flipping him the bird — with both hands. You know, like idiot children of bad parents.
As if to double-down on the asininity, "Yeah, f– Reagan," wrote Matthew Hart, one of the insolent asses, on his Facebook. That Facebook page must an absolute delight. That's Matthew "Matty" Hart. The other ass was a woman named Zoe Strauss, a photographer. No doubt a terrible one.
According to the Washington Times, (which opted, probably smartly, to not post the pictures, at least online), Hart is "national director of public engagement" at Solutions for Progress, which receives public and private funds to help "individuals and families working to overcome poverty and to build long-term financial stability," according to its web site. Or at least he was, up until today. Since he's clearly incapable of even a modicum of propriety in the area of "public engagement," I would hope he'd be shown the door right quick, now. I know I wouldn't let him work for me. I don't think any self-respecting organization would. Nor would I seed his kind of hateful, extremist puerility with my donated cash.
Ms. Strauss is a photographer. Apparently she's a photographer of the classic "ignorant ass" school. She also would never work for me.
According to the Philly Post, which did post the pics, their Facebook friends' comments ranged from "you forgot to add with a chainsaw" on Hart's 'Fuck Reagan' note, to my personal favorite,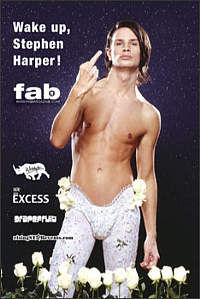 "star wars … up yours," on Strauss's."
Yeah. More gracious and respectful thoughts from those who demand respect and grace.
I love gay people, but some do make it hard to.
This episode reminds me of a similarly fatuous gay magazine photography set shot in Canada by some ever-so tolerant, respectful gay folks, years ago. Fab magazine shot some delightful pictures, demonstrating their great respect for the then Opposition Leader of Canada, the Conservative Stephen Harper — who became Prime Minister of Canada.
I'm not sure what happened to the lovely models who posed so moderately, but they didn't rise to the office of Prime Minister. Nor will they ever come close.