I can barely look at the photos and videos of "gay pride" parades each year but I do because it's my job. They include among the most revolting displays ever served up on our public streets.  Over the years,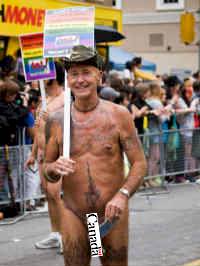 I've posted them in my blogs and have had to pixelate lots of them, which says all you need to know, given that they're from out on the public streets.
To be clear, I hate all parades.  And I especially hate when politicians or any representatives of government attend them.  It makes it all feel like the Soviet Union to me.  As if it has to be officially santioned or deemed by them to be legitimate community displays; or as if we somehow require their big central government to sign off on the event in order for it to be validated.  Almost everything seems to revolve around the damned government, and most things  —  especially community events, should not.
But the very nature of this one, or of this type, is particularly hideous: a parade based on sexual proclivity, and the "floats" and participants advocate that particular sexual proclivity?  Ridiculous.
Oh I know.  As soon as you do that  —  you don't very publicly embrace the crap out of this "gay pride" thing (no, no, not just tolerate it  — you have to actually publicly embrace it, holus-bolus, to get a pass)  —  you're reflexively labeled (at best) a "fuddy-duddy" or (at worst), an "intolerant (something or other)," or a "hater" or a "homophobe" or even worse, by some of the folks who suddenly behave like intolerant fascist idiots and bigots and haters, one hundred-fold bigger than what they perceive me as.  I couldn't care less.  They're wrong on every level.  About me, about it, about the labels, about the argument, their method of arguing, about everything.  And I'm right. And I have rights too.  I hate their mob mentality, I don't love their mentality as a general matter, I'm not a team player, and I don't do what other people tell me to do at the threat of being publicly castigated in public and character-assassinated by them  —  the people who, in this case, are quite literally a bunch of ugly naked asses.  And I don't talk about or display my sex, with strangers. And did I mention I hate parades?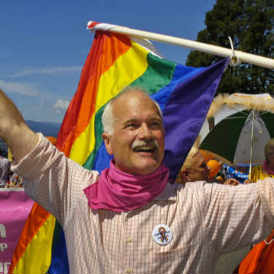 The very nature of this thing seems to encompass a weird, fascist, or maybe Orwellian attempt at social engineering, but from a small, militant segment of the community, and for the stupidest of reasons.  It goes like this: attend this thing  —  no hang on  — not just attend but march in  —  and display your complete emotional and physical and philosophical and intellectual and political embrace  —  real or not  —  of all that is advocated therein (that is, the acceptance of gay sex and gay 'marriage' and the whole gay lifestyle).  Or else be labeled by many in that community, and many of those who apologize for them, as someone who is worse than Hitler;  as a community lout who will henceforth be outcast and castigated by that particular community; browbeaten and labeled as the aforementioned "hater" and as "intolerant" (irony goes right over their vacuous heads), or in this case, as a "homophobe."
In Toronto's case, some of the gay industry advocates who are putting it on (or actually, mostly taking it off and exposing themselves for the community including children standing there at just the right eye level) whine that "it's a tradition" and therefore all politicians and all state officials (whom they otherwise want out of our bedrooms)  — should attend.  Especially the mayor.  Especially if he's conservative mayor. No, sorry again: not just attend but march in.  Suddenly these folks are about upholding the community's "traditions."  Like Christmas (or "happy-tree fest" or whatever they've decided to re-name it)?  Like straight marriage and regular families?  Traditions like not talking to all who are in earshot about exactly how you prefer to engage in sex, and showing them your bare ass? Like not parading in the streets exposing your genitalia as best you can?  No no.  Just this tradition.
As it tuns out, in this case, conservative Mayor Rob Ford of Toronto is upholding a family tradition going back 30 years, which is to attend a family getaway at their small cottage north of the city, that July long weekend. Not good enough! say the gay parade fascists.  Our tradition is better than your tradition, and so you must attend ours and forsake yours, lest you be marked with the "homophobe" label!  This is how it works!

…To which Ford has has rightly responded (if I may hazard a loose interpretation): whatever.
Good on him.  Have a happy Canada Day traditional long weekend with the family and friends, Mayor Ford.  Embrace that. (As if I had to tell you.)