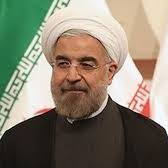 President Barack Hussein Obama said recently in a written statement that his regime's six-month deal with Iran represents "concrete progress" toward a long-term agreement.
Iran's President Hassan Rouhani seems to think it represents concrete "surrender."
At least they agree on "concrete."
https://twitter.com/HassanRouhani/status/423056098594410496
Of course those theocratic socialists controlling Iran say the craziest things, and not just because they're socialists.  But we take them seriously when they, for example, threaten to blow Israel to kingdom come. And so we should take them seriously when they tweet (they tweet!) that they believe the Obama administration and the Europeans who are collectively striking a nuclear appeasement deal with Iran… are doing just that.
I hate to agree with a Islamist theocratic socialist Iranian, but there you go.