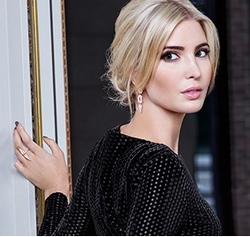 I know what you're thinking, but it is merely a coincidence that ever since our ad for the Ivanka Trump fashion line was put up on our site, her sales skyrocketed.
Ivanka Trump clothing line reports record sales

Ivanka Trump's eponymous women's fashion line is reporting record sales figures despite calls for a boycott and controversies surrounding President Trump.

"Since the beginning of February, they were some of the best performing weeks in the history of the brand," Abigail Klem, the president of the Ivanka Trump fashion brand, tells Refinery29 in an interview published Tuesday. "For several different retailers Ivanka Trump was a top performer online, and in some of the categories it was the [brand's] best performance ever."

The news of a sales surge comes after Nordstrom announced in early February that it would no longer carry the 35-year-old's clothing and accessories, citing poor product sales. …
Maybe we should advertise our own website on our website.