Savor it while it lasts, Canadians.  It will be the last (almost!) positive, and not overtly contemptuous or disgraceful or disdainful Harper-related front page in, well maybe ever.
They will almost immediately revert back to their anti-Harper, anti-anything-conservative quagmire. (…read on, below picture…)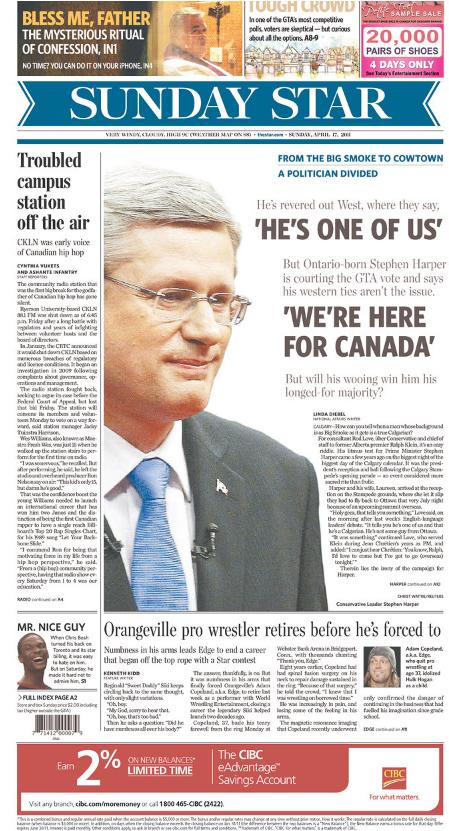 And today  —  just today  —  even the Toronto Star's accompanying picture of Harper isn't carefully calculated, as it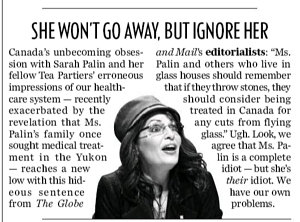 often is by the liberal media generally, to make him appear as a moron or disheveled goofball, the way the progressive conservatives' National Post division once featured Sarah Palin, for example  —  see right —  while instructing readers to "ignore her" and calling her "an idiot."  That episode was more the kind of feature story about actual conservatives that we're accustomed to in Canada, by us actual conservatives, from a media which seems to be utterly intolerant of us, or in some cases  —  like Sarah Palin or ("our!") Ann Coulter (here and here)  —   actually seem to hate them.
But back to the Star today: You had to know there would be "buts."  Yup, even amongst the (almost!) positive pseudo-quotes in the Star's front page today, like "He's one of us" and "We're here for Canada," you may already have noticed there's not one but TWO "buts!"  ("But Ontario-born…" and "But will his wooing win…").
And while they were sure to temper their front page with two "buts," inside their pages they don't attempt an answer to their own buttheaded question ("But will his wooing win him his longed-for majority?"), possibly afraid of the answer.
So, no buts about it, essentially, we presume. 
.

Print Friendly