[dropcap]I[/dropcap]n the article that the Seattle TV station KING5 (NBC) linked to in their tweet about the scaling back of the "holiday tree" lighting celebration, they sheepishly — or downright purposely — neglected to name names (I mean besides the obvious renaming of Christmas to "holiday"):
Seattle scaling back its annual holiday tree lighting celebration after Seafair pulls out. https://t.co/YtN01X3Utr pic.twitter.com/lzVt9RKQZU

— KING 5 News (@KING5Seattle) November 17, 2016
SEATTLE — The Westlake Holiday Tree Lighting Celebration will look different this year, and smaller.

The Downtown Seattle Association said Wednesday it has decided to scale back production this year to allow it to spread resources across Westlake and Occidental parks.

However, KING5 has learned that SeaFair, which had produced the extravaganza the past two years, decided to pull out of the production. 

That followed protests in 2014 and 2015, which disrupted the ceremony and prompted a police response to secure the nearby shopping centers.
"Protest" which "disrupt the ceremony" are now what dominates the erstwhile traditional, happy, festive, family-oriented Christmas celebrations in Seattle.
They obviously didn't want to name the protest culprits which disrupted the ceremony in 2014 and 2015 — Black Lives Matter — and its Democratic Party enablers. They thereby failed to explain to its audience the actual, whole truth. This is political correctness and a left-wing agenda at work.
This seems to be a typical tactic of the left-wing media and politicians. They refuse to identify the culprits if it doesn't advance their agenda. No wonder people don't trust the media — or those D politicians who fail to identify the culprits.
Here are some Seattle headlines from last year.
Black Lives Matter protesters march, have sit-ins in Seattle
published November 27, 2015
Police prepare for Black Lives Matter protest, tree-lighting at Westlake
published November 24, 2015
Here are a few of the replies the KING5 tweet got: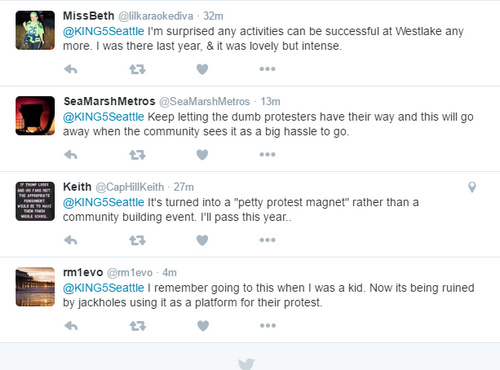 I can only imagine how the rabid anti-Trump rioters and protesters will wreck this year's "holiday tree" celebrations.
The organizers (or what's left of them) might want to go ahead and risk success by calling it a Christmas tree instead of holiday tree, since that's what it is. People in America like that. They like normal. peaceful, traditional American Christmas.