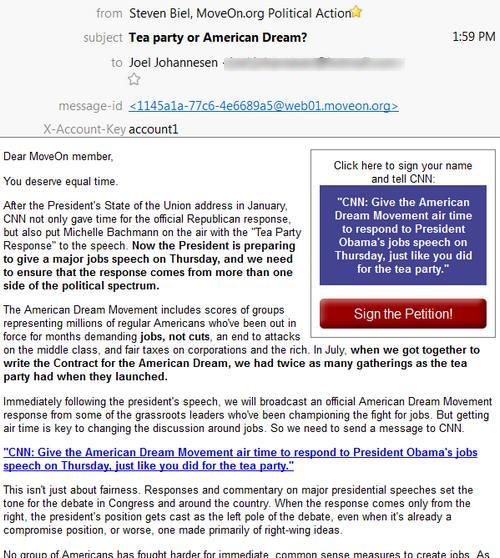 How left-wing is MoveOn.org?  Well, President Barack Obama is full of "right-wing" ideas, see. That gives you an idea.
Their newsletter today is about how unfair Fox News Channel is.  Sorry, no, I meant that other bastion of nutbar right-wing media mouthpieces, CNN.  Yeah that CNN.  The one normal people call "mainstream liberal media."  (What is Fox News Channel to MoveOn.org, you ask?  I'll leave that for another day!)
Beware the whine-fest: Actual quote from my MoveOn.org newsletter today:
Dear MoveOn member,

You deserve equal time.

After the President's State of the Union address in January, CNN not only gave time for the official Republican response, but also put Michelle Bachmann on the air with the "Tea Party Response" to the speech. Now the President is preparing to give a major jobs speech on Thursday, and we need to ensure that the response comes from more than one side of the political spectrum….
What? For the first time ever, CNN had more than one non-leftist on to review Obama's partisan rhetoric?  More than one, you say?
Two of 'em?!
Wow! What an abomination!  How unfair!
Perhaps they needed to watch the next 12 hours on CNN for the liberal catch-up, instead of reflexively switching right back over to their MSNBC or al Jazeera or Cuba National Television in a big huff, and punching out this big whiny email.
They weren't done explaining about all the unfairness.  Why I bet you this isn't just about fairness.
This isn't just about fairness. Responses and commentary on major presidential speeches set the tone for the debate in Congress and around the country. When the response comes only from the right, the president's position gets cast as the left pole of the debate, even when it's already a compromise position, or worse, one made primarily of right-wing ideas.
And so of course they hoist up petition number 8,523,925, imploring you all to sign it.
But the funny thing is, Republican Speaker Boehner has said today that they don't even need to respond.  The people will respond as they wish, his office says.
From Mike Steel, spokesman for House Speaker John Boehner (R-OH):
"Republicans are, and have been, entirely focused on job creation. Every Member of Congress, and – more importantly – the American people, will provide a reaction to the president's address. We trust in the good judgment of the American people, and the president's proposals will rise or fall on their own merits."
So what a waste of a good whine.  Maybe they should stick to bongo drums.  And of course tambourines for percussive fairness.
MoveOn.org would be very happy and very busy if they moved on up north, where in Canada the mainstream media  —  particularly the state-owned, far-left, anti-conservative CBC  —  typically counter all Conservative government (or conservative) remarks with arguments from the socialist NDP, the slightly less progressive left-wing Liberal Party, the socialist Bloc Quebecois, then some reliably left-wing or Marxist university professor, then a top quality socialist media reporter acting like a media analyst or pundit, often then followed up by someone from… MoveOn.org or Huffington Post or Daily Kos.  I'm not kidding.
Sign a petition for that, you "fairness" mavens.
***
UPDATE: MoveOn will be most pleased with Nancy Pelosi's peevey whine this morning (Wednesday Sept 7):
Pelosi Peeved Republicans Opt Out of Rebuttal to Obama Speech

Print Friendly