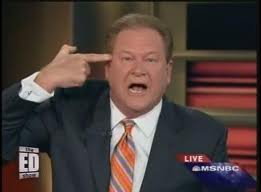 When fact don't go their way, they try to fake you out.
Or so it seems, at MSNBC.
Much to the chagrin of liberals, which is partly why I do it, I tweet and blog about the cable news viewership numbers all the time. They always show Fox News Channel (which does tolerate conservatives), and all its shows individually, ranking #1 by far  —  sometimes doubling all their competition combined.
I did that just this morning regarding the relatively new Megyn Kelly show on Fox News, after checking on the durability of her show's hugely successful rollout late last year. Here's my tweet:
And just those sort of ratings apply across the board to all of the Fox News Channel shows, including Fox News Channel's "The Five," which is a cable news ratings juggernaut. It's up against the "Ed Show" on MSNBC, and Wolf Bitzer on CNN.
So imagine my surprise when MSNBC's "Ed Show" host Ed Schultz tweeted this out this afternoon, to his 189,000 followers: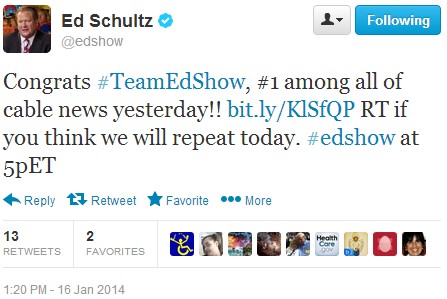 Look at all those retweets! Apparently Schult'z followers include a lot of dopes or lemmings. Here are the viewer numbers  — part of the same chart I'd just looked at prior to my tweet (date updated):
| | | | | |
| --- | --- | --- | --- | --- |
| Net | 5PM | P2+ (000s) | 25-54 (000s) | 35-64 (000s) |
| FOXN | FIVE, THE | 2140 | 328 | 827 |
| CNN | Situation Room | 450 | 94 | 161 |
| MSNB | Ed Show | 550 | 146 | 232 |
| CNBC | FAST MONEY | 168 | 58 | 83 |
| HLN | What Would You Do | 137 | 37 | 31 |
Clearly, Fox News Channel's "The Five" way more than doubled the competition (CNN and MSNBC),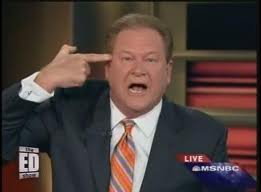 combined. So what the hell is Schultz on about?
Turns out, if you follow the link, which virtually nobody would, Ed Schultz, of the news channel MSNBC, which purports to lay out the facts in straight-up terms to avoid confusion and help you gain an understanding of the world around you, BS'd you about being "#1 among all of cable news." He was only #1 in some obscure website's "Cable News Twitter Ratings for January 15, 2014." Supposedly his show had the most Twitter mentions, that hour. Yeeha.
Nice sleight of hand.