There are at least two American manufacturers of tour buses or motor coaches:  MCI and Eagle.  They both make buses for tour and transit companies like Trailways, Greyhound, and Gray Line.  They could have supplied the U.S. government with its taxpayer-paid $2.2 million set of big new black "green" jobs-promoting touring behemoths which President Obama is using to tour around at taxpayer expense promoting jobs himself.
Instead, Prevost, a manufacturer which builds buses solely in Quebec, in Canada, was the beneficiary of American taxpayer largesse, even while Americans are longing for good American jobs right at home in America, and even while that is what Obama is always on about.  (In this case, it's not even an American company which simply has a plant in Canada  — it's a Canadian company with Swedish ties to Volvo).
So that's a little funny (and actually fairly serious and important) on at least a couple of levels. Promoting Obama's "vision" of new American "green" jobs (which he always stresses should be AMERICAN jobs in AMERICAN plants)  —  from a carbon-spewing black diesel bus built by Canadians in Quebec, Canada.
But just to show you how screwed-up the liberal media is, which would have held a summer-long news festival (right after covering the various gay pride festivals) over this if Obama were a Republican president:  Rather than focusing on that rather major business and PR  and really pretty glaring economic and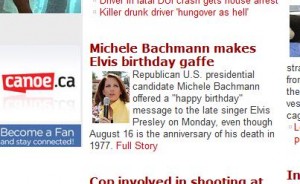 political gaffe, the media in Canada has an article today, which goes on at length, about how Republican candidate Michelle Bachmann accidentally wished Elvis Presley a happy birthday, yesterday, when in fact yesterday was the anniversary of his death, not his birth.  A whole article about that. Then they featured that big news story on their web site's front page.
The first word in the story was, of course, "Republican."
They could have had a field day talking about  –  and possibly touting with some pride  —  the fact that the American president was touring around in a coach built in their own country (well, Quebec, anyway.  And actually, the media outlet in question is based in Quebec, Canada).  But no, they found it more important to ramble on for 137 words about how Michelle Bachmann said happy birthday to Elvis Presley by accident.
That's how screwed-up the liberal media is  —  or liberals in general  —  in both countries.
Hey I wonder if the Obama admin will choose Bombardier or Embraer or Airbus to build the next Airforce One!