The take-away lines from this morning's news conference being held by "Occupy Vancouver" this morning seem to follow that path of total socialism-addled confusion they started out with (as reported by local radio station CKNW(AM980) online):
[…]  "The Occupy movement will be somewhere else, in the future.

"So we will be cleaning the site up and leaving — taking the buildings to another location which has not yet been decided exactly upon where that may be."

[…]
Resist we much upon exactly where.  (–Al Sharpton, MSNBC, adapted)
A court has given them until 2:00 PM PST to clear out of their current encampment at the Vancouver Art Gallery.  The public-sector union-sponsored occupier mob promises more announcements of further secret actions at that time.There are Tweets to the effect that they plan to "occupy" the government-owned and run (with public-sector unions) Skytrain mass transit system.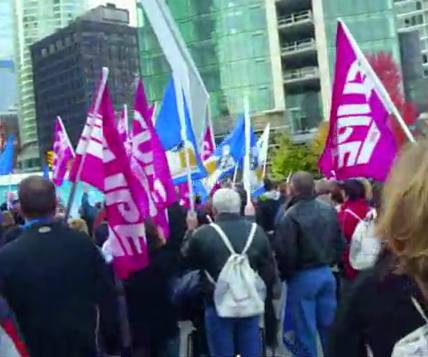 Apparently the mob thinks it's largely the "1%" who take the Skytrain home to their families every day.
Wait me much upon.
Here's a video in which the head of the Canadian Union of Public employeees brings the occupy mobs in Vancouver to a frenzy, using chants like "I say Occupy!  You say power! I say union! You say power!…"  And "…the Hell with the banks!" over and over. He got lots of uptwinkles from the mob. http://www.youtube.com/watch?v=5-ahI0OPeY8
As we know, public-sector labor unions are some of the biggest corporations in the land, and some of the biggest "Wall Street" investors in North America.
Hypocrisy we much upon capitalize on useful idiots.